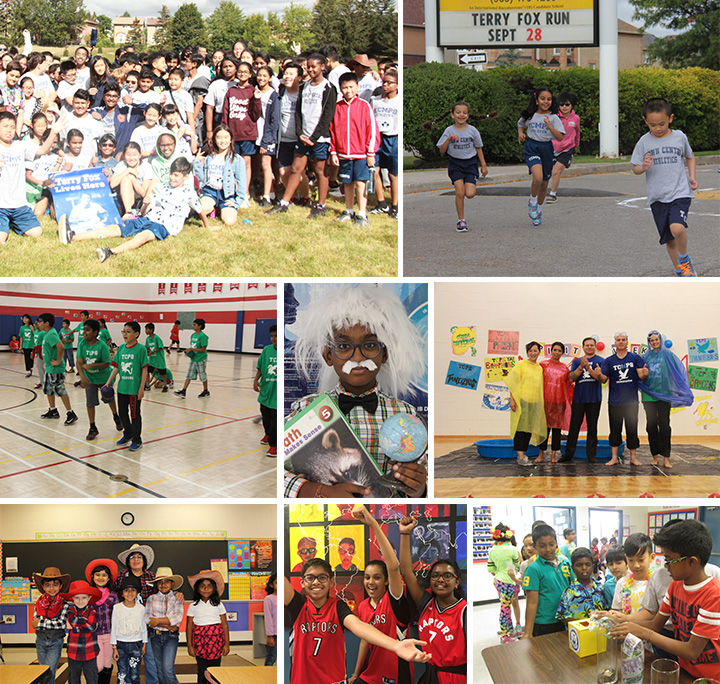 For the 12th consecutive year the students and staff at Town Centre Private Schools have embraced Terry's dream to find a cure for cancer.
Spirit Week 2017 is a special event held each year with elementary students participating in a variety activities designed to build school spirit and support the Terry Fox Foundation.
The week of specially themed days commenced with "Athletes and Mathlets Monday". Students dressed up as their favourite sports celebrities or their favourite Mathematicians. The students really got into the spirit of this theme day and came up with some awesome costumes.
The first fundraiser was Toonie Tuesday for Terry which has become a wonderful tradition at TCPS. Each year leading up to the annual Terry Fox Run, students collect their toonies to donate and help make a difference for cancer research. As an added incentive, for each toonie contributed, the students received a ticket. Thank you to all the students who participated. We raised $1,320. Tuesday was also tourist day with students and staff dressed in shorts, T-shirts and sunglasses. Many looked as if they had just returned from holidays!
On Winning Wednesday students demonstrated their team spirit and athletics skills in a TCPS Intramural Dodge Ball tournament. Students were dressed in their House League T-Shirts representing our 4 houses including the Blue Thunderbirds, the Green Dragons, the Red Phoenix, and the Yellow Gryphons. A very popular event the Green Dragons were victorious earning 850 points for their house. The points from similar events will be tabulated and determine the winner of the TCPS House League Cup at the end of the school year.
Thursday the Elementary Division held their 12th Terry Fox Run. This is a school wide annual event. Everyone was in amazing spirits, motivating and encouraging one another to run, or walk the course in support of cancer research. It was a beautiful day and the students enjoyed this fall event. Thursday's theme was Honkey Tonk. Students and staff took their inspiration from traditional western attire dressing in plaid shirts, cowboy hats, cowboy boots and bandanas. Everyone looked great!
Finally, Fantastic Friday wrapped up Spirit Week. During the Spirit Day assembly, the students also watched a fun slide show that recapped the amazing activities they enjoyed throughout the week. We ended Spirit Week with a bang, when 5 lucky students' tickets were drawn from our Toonies for Terry Raffle. These students were invited on stage to throw a bucket of water at Elementary Principal Mr. Lamanna and Elementary Vice-Principals, Mr. Vanderlugt, Ms. Bowerbank, Ms. McQuaid and Ms. Thadani! The assembly was a huge success and the students raised $1,320 for the Terry Fox Foundation. This amount will be added to the funds raised through the Terry Fox Run.
Another spectacular Spirit Week!