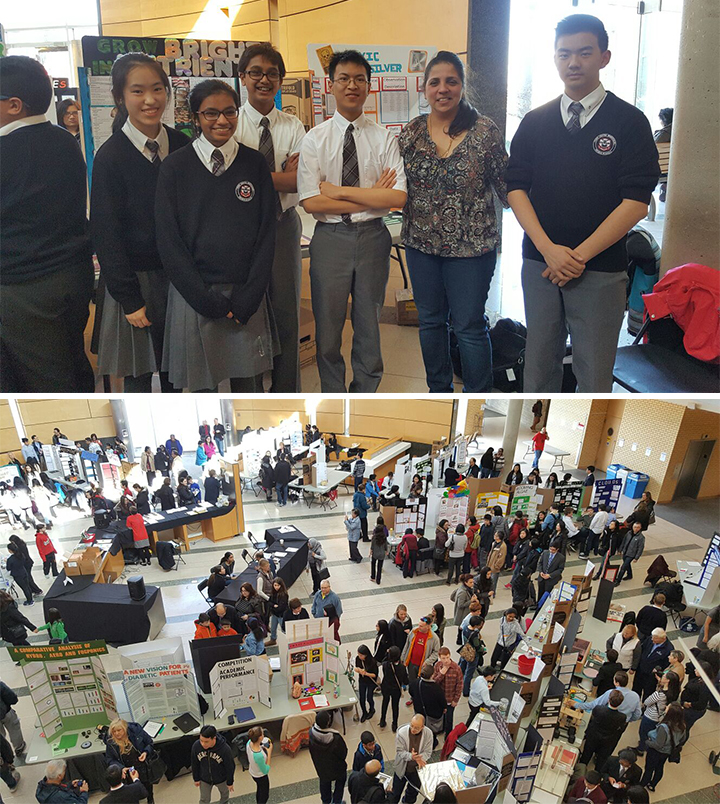 Following the Town Centre March 2nd STEM Fair, the top 5 students from grade 8 were entered into the York Region Science and Technology Fair.  Held on Saturday, April 1st, this annual fair held at York University in Toronto showcases the scientific research of students in grades 7 to 12.
With over 150 participants from across York Region, we are proud to announce that 4 Town Centre students won Gold, Silver, and Bronze Medals!  And if fact, one of our students has advanced to the national competition in Regina!
Shirothie P. – Gold Medalist and YRSTF Champion
Andrew P. – Silver Medalist
Christy H. and Suraj S. – Bronze Medalists
Ivan W. – Honourable mention
As a Gold Medal Winner and YRSTF Champion, Shirothie has been selected to participate in the Canada-wide Science Fair which will be held is Regina, Saskatchewan in May.  Shirothie will be competing against 500 of Canada's top young scientists for a share of nearly $1,000,000 in awards, prizes, and scholarships.
We would also like to congratulate Ms. Mathew who provided countless hours of guidance and support to all our STEM Fair students and congratulations to all the amazing and brilliant STEM Fair students on their remarkable accomplishments. We wish Shirothie the best of luck in Regina in May.