Athletics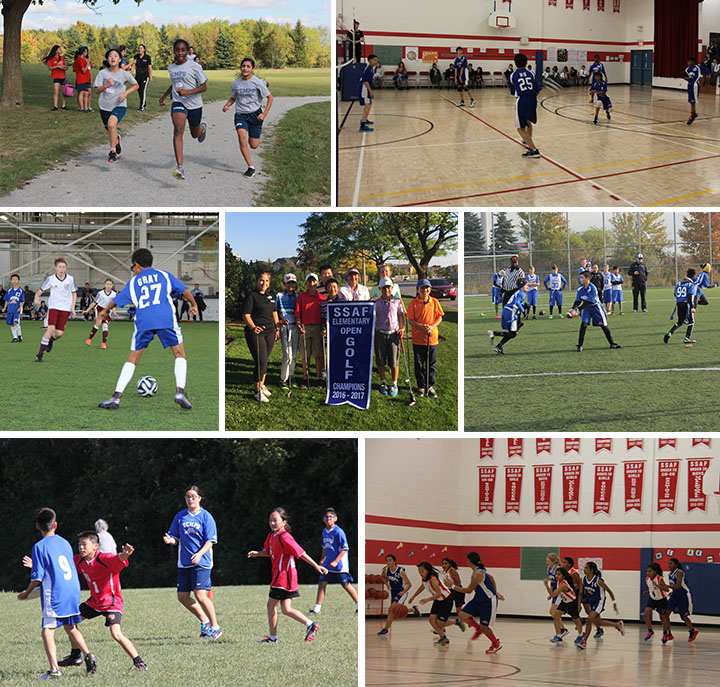 Town Centre Private Schools is an active member of the Small Schools Athletic Federation (SSAF).
The SSAF offers athletic competition for our elementary and high school students. This sports league offers the students a chance to try out and compete against other schools in inter-school competitions.
TCPS compete at the elementary level (grade 4 to 8) and at the high school level (grade 9 to 12) with boys, girls and co-educational sports teams. The SSAF provides our students the opportunity to demonstrate their school spirit and show sportsmanship in friendly competitions.
Winter 201 Results:
Boys' Basketball
Wednesday, January 10th
vs. UMS lost 46 to 31Monday, January 15th
vs. LRH won 44 to 32

Wednesday, January 17th
vs. TWS won 50 to 15

Monday, January 22nd
vs. St. Jude's won 51 to 21

Wednesday, January 31st
vs. AMS won 48 to 39

Monday, February 5th
vs. KCS won 41 to 36

Monday, February 12th
vs. PACE won 43 to 35

Tuesday, February 13th
vs. Tall Pines won 56 to 41

North Division Semi-Finalists

Girls' Volleyball
Tuesday, January 23rd
vs. LBN won 2 to 1
and vs. APA won 2 to 0Thursday, January 25th
vs. UMS won 2 to 0
and vs. TWS won 2 to 0

Thursday, February 8th
Mid-Season Tournament
won all 5 games!

Playoff Champions and Undefeated during the regular season

Co-Ed Table Tennis
2nd Place
Under 12 Co-Ed Basketball
Had a great tournament, won their first game
Co-Ed Curling
3rd Place
Co-Ed Bowling
Championship March 26th
Fall 2017 Results:
Elementary Ultimate Frisbee
Quarter-Finalists
Elementary Cross Country
Fun Run Invitational
Placed 3rd in Elementary Girls' Division
Elementary Co-Ed Flag Football
Semi-Finalists!
Elementary Co-Ed Golf
Champions!
Elementary Girls' Basketball
Tuesday, October 17th
vs. Tall Pines – lost 42 to 14
Thursday, Oct. 19th
vs. UMS – lost 43 to 2
Tuesday, Oct. 24th
vs. Aurora Prep – won 32 to 8
Thursday, October 26th
vs. KCS – won 20 to 19
Wednesday, November 1st
vs. UMS – lost 23 to 32
Tuesday, November 7th
vs. Tall Pines – lost 25 to 15
Tuesday, November 14th
vs. KCS – won 22 to 20
Elementary Boys' Volleyball
Monday, Oct. 23rd
vs. PACE – won 2 sets to 1
vs. TWS – won 2 sets to 1
Monday, November 6th
vs. UMS – lost 2 to 1
vs. RHMS – lost 2 to 0
Monday, November 13th Tournament
vs. RHMS – lost 1 to 1
vs. UMS – lost 2 to 0
vs. TWS – won 2 to 0
vs. PACE – won 2 to 0
vs. APA – won 1 to 1
vs. St Judes – won 2 to 0
Under 12 Co-Ed Indoor Soccer
2 wins and a tie
Elementary Co-Ed Dodgeball
tournament on November 20th
Spring 2017 Results:
U12 Co-Ed Badminton
Silver medal is Girls' Singles
Elem Co-Ed Badminton
Silver medal in Mixed Doubles
Boys' Soccer, Girls' Soccer and U12 Co-Ed Soccer
Great teamwork and tournaments
U10 Co-Ed Track & Field
Great meet
U12 and Elementary Co-Ed Track & Field
2 bronze and 4 silver medals
Elem Co-Ed Softball
Fantastic tournament
House Leagues
All students in the Elementary Division are divided into 4 house leagues. Throughout the year students have the opportunity to accumulate points for their houses by participating in spirit days, competitions and pep rallies. At the annual sports awards assembly in June, the house league with the greatest number of points is awarded the TCPS Cup. House leagues help develop teamwork, sportsmanship and school spirit.

Spirit Wear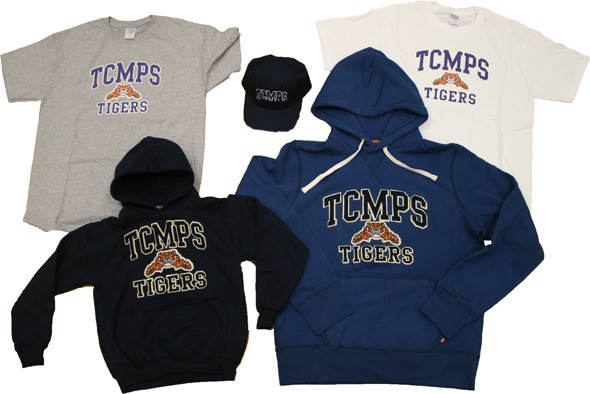 Town Centre Private Schools is pleased to offer students, parents and staff the opportunity to show school spirit in a fun way by wearing TCPS spirit wear! This exciting spirit wear is a line of casual clothing with school colours and our great mascot, TC the Tiger. Spirit wear can be worn for civvies days, sporting events, spirit days and of course, on non-school days!
The Montessori Pre-School and Elementary students are certainly proud of their school, as are we, and what better way to show their pride in TCPS than by wearing a hat, a t-shirt or a stylish hoodie!
The new spirit wear is on display in the front foyer of the Amarillo and Main Campuses. Spirit wear can be ordered through the Office.